Goodbye 'Get Quote', Hello 'Book Now'
Introducing MoveBooker. The booking platform for independent moving companies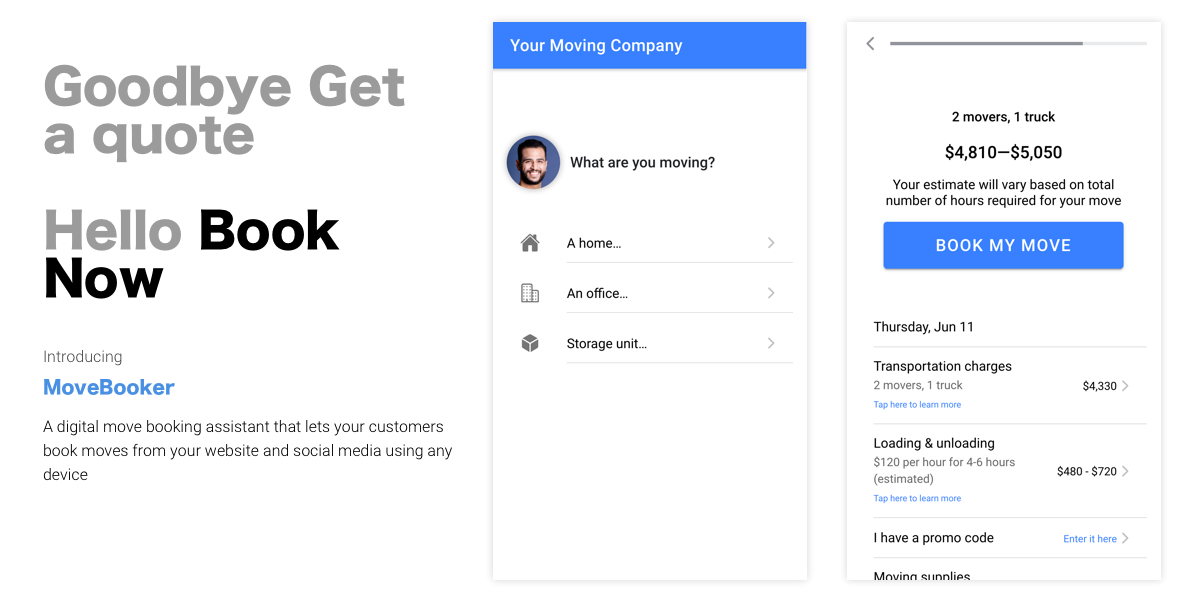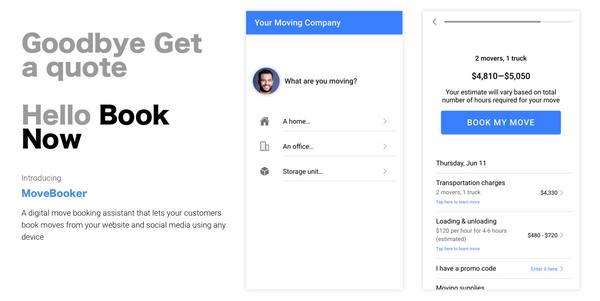 We are building MoveBooker, the virtual booking assistant for your Moving business.  MoveBooker allows your customers to book moves with you directly from your website, their mobile devices or from any social media platforms you're on.
Rather than replicate the old get quote - email follow up route (which works by the way). We are designing what we believe is a better move booking process by building a more personal, friendly and educational booking flow that gets customers ready to book without effort from you.
For us, our focus is building the moving interface that we would want to use when working with the Moving Companies of the future.
For independent moving companies, the challenge is often how to both give prospects an instant estimate and also collect billing/card information at the time of booking. The factors that impact pricing for movers are quite difficult, but are often a mix of calculating labor costs, transportation charges, insurance/coverage, required materials represent the majority. If movers are able to give customers a good estimate of moving charges, Customers will be more than happy to book immediately online.
By creating a simple conversational flow with your prospect, MoveBooker does all the heavy lifting in the background to ask the right questions and determines the rates applicable to a move. The customer practically feels like they are talking to your company in real time and is then able to reserve a move with your firm after reviewing your estimates and accepting terms/policies.
Interested in joining our movement? Start a free trial now